July 1st, 2011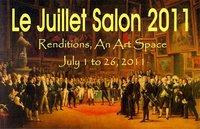 I am very excited about my exhibition today at Renditions, An Art Space.
I am going to feature my work, Drowning in the Storm, Escalating Fear, and my two new paintings, One with Nature, and a special painting that is dedicated to my boyfriends grandfather Angel Menendez.
Please view this link for directions and more information on this event http://fineartamerica.com/events/le-juillet-salon-2011.html

Thank you for viewing. Have an artistic day!:O)
June 13th, 2011
Hi everyone!

When I lack inspiration and have a white canvas with a blank stare, I find that following other artists inspires me and my work. I follow a couple of artists online that I found on fineartamerica, youtube, and other websites. If you would like to follow me please like my facebook fan page http://www.facebook.com/pages/Angys-Arte/142929755720350
I also have a blog/website http://www.andrearealpe.com/
Thanks for your support artists. If you would like me to follow you please send me a message. Have an artistic day!:O)
November 28th, 2010
Hello everyone,

Come check out the winners of the anxiety contest. I also chose another artist that participated in the contest. They are featured in my website. www.andrearealpe.com

Thanks for viewing.

Angy
August 8th, 2010
Hello everyone, Come check out the winners of the rose drawing contest on my website. Thanks and have a great day.

http://www.andrearealpe.com/2010/08/rose-drawing-contest-winners.html
July 8th, 2010
Please come check out the winners and all participants featured in my website, http://www.andrearealpe.com/

Thanks :O)
April 28th, 2010
Please come check out the winners and all participants that are featured in my blog, http://andrearealpe.blogspot.com/
Thanks :O)
April 5th, 2010
My art teachers chose me to be a part of the annual student art exhibit.
I will display Hungry Panda for illustration class and Under the Sea for Drawing 2. I chose to display Hungry Panda because, I feel that I made it my own instead of copying a picture. I included a few photos and put it together.
Under the sea is a series of three drawings that I did in class with two other class mates. The first drawing is an ink drawing of the ocean's surface. My ink drawing is the second one and it is a drawing of a trench with sea creatures. The final ink drawing is the bottom of the trench with sea creatures.

I am super excited!

November 1st, 2009
The 621 Gallery had a Halloween bash, masquerade. They offered the Gallery walls to all artists. I thought putting up, Bleeding would be very appropriate for Halloween.
The party went very well and i got many compliments on this weird out of character painting. This weird piece happened by accident while i was trying to glue fake flowers on foam paper. I found out that gorilla glue didnt work so well on gluing the fake flowers to the foam board. The glue was also drying up white and then i decided to draw a tree with the glue. It needed something extra so i added red ink. Unusual but it looks pretty freaky.
October 5th, 2009
I went to first Friday. I was very excited about my art work in a gallery. As i walked into the gallery, I couldn't find my art work. I searched on the wall and nothing. I was about to ask someone about my missing art, until i saw the roses displayed on a ladder. I am truly grateful that i was offered a wonderful opportunity. What do you guys think?
September 29th, 2009
My exhibit will be up this first Friday. I found out that renditions wont be having another open art space for November. This will be my first real art exhibition. Well i had one when i was in high school, but that is nothing compared to this exhibit. MANY people will be there. I am so excited that people from different places will be viewing my roses. I decided to put up the two roses, New Beginning and New Life. I really hope they get a good response.